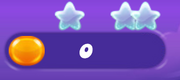 Score (or Points) is one of the fundamental elements in Candy Crush Friends Saga. It's a stat value that's calculated during the level playing and after the level has been completed. Every level has a set of three score requirements to evaluate the gameplay and give Stars accordingly.
In this game, each level has a different objective to complete. While the score can be gained from completing the objective, it is not important if the target is just to complete the level. If for any reason the score is still below 1 star after Sugar Crush, the level will be considered as being completed at precisely the same score of 1 star.
Elements' Attributed Points
[
]
Note: This list is incomplete. Please remove this notice when you can find all the things that give points.
Element
Description
Points
Candy match
Add 30 for every additional match in one move.
30
Swedish Fish
Add 60 for every created Swedish fish.
60
Striped Candy
Add 60 for every created striped candy.
60
Wrapped Candy
Add 100 for every created wrapped candy.
100
Wrapped Candy Detonation
The score that you get depends on candies that are crushed by wrapped candy.
30 per candy destroyed

480 (maximum)

Color Bomb
Add 100 for every created color bomb.
100
Coloring Candy
Add 140 for every created coloring candy.
140
Blocker
(per blocker except for liquorice swirl)
10
Heart Movement
Every time a heart moves.
10
Heart
(per heart filled)
10,000
Animal
(per square it occupies)
2,000

Octopus

When the octopus is released from the gummy.
1,020
Cookie
When the cookie is dunked into the chocolate.
10,000
Sugar Crush
(per move remaining)
3,000
Trivia
[
]
The scores can have multiples of 10, though unlike all the other Candy Crush games, which can have multiples of 20.

Also, unlike Candy Crush Saga, no level types require solely score to complete.