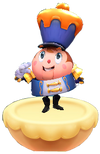 Nutcracker is one of the playable characters in Candy Crush Friends Saga. The player can get this character by getting 20 Nutcracker stickers from gift boxes.
They can use this character at the beginning of the game.
Description
Edit
"The Nutcracker was a member of a Christmas toy set before he fell into the Candy Kingdom. He believes he's been taken prisoner in this strange world, but since he met Tiffi, he's not so sure he wants to go back home."
After collecting 10 blue candies, he will target a tile and make a 5x1 attack, dealing damage to objects inside. He will always try to hit Caramel Cups and deal double damage to them.
If there is no caramel cup remaining, he will target other blockers, or the upper area of board.
Costumes
Edit
Squirrel (50)
Skeleton (100)
Robot (200)
Gentleman (200)
Pilgrim (??? stickers or 35 stars from the 2018 Thanksgiving Star Chaser event)
King of Hearts (300 stickers or completing all 20 levels in the Valentine Valley episode during the 2019 Valentine's Day event)
Prince of Diamonds (450 stickers or 50 stars from the 2019 Valentine's Day Star Chaser event)
Leprechaun (450 stickers or 70 stars from the 2019 Saint Patrick's Day Star Chaser event)
Mr. Toffee (100)

In Candy Crush Saga, the character is named as 'Jean-Luc'.
King of Hearts costume has a different debut, unlike the other costumes.
According to an image on the right, his old ability seems to be a lollipop.
During early August 2020, his ability was glitched that he could not hit anything that was not caramel cup.
Old
Current
Original
Costumes
Community content is available under
CC-BY-SA
unless otherwise noted.