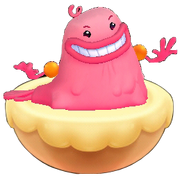 Bubblegum Troll is one of the playable characters in Candy Crush Friends Saga.
The player can unlock this character by playing Bubblegum Catastrophe and collecting 600 stickers.
Description
Edit
Stages: 800-2000-3400-4800-6200-7600-9600-12200
After collecting 10 yellow candies, Bubblegum Troll will make two bubblegum blasts randomly on the board, but if there are special candies, he will likely make these blasts near the special candies.
The bubblegum blast will explode in four directions diagonally and jump three tiles, damaging anything in the path.
Unlike many special candies, however, the bubblegum blast cannot be mixed with other special candies. Switching them will simply activate them without activating the other candy (unless it makes a match or is another bubblegum blast).
It does act as a special candy, such that each direct hit to hearts will move them by two steps.
Angel
"King" Bubblegum Troll (600)
Community content is available under
CC-BY-SA
unless otherwise noted.